| | |
| --- | --- |
| Olympia SG1 - 1960 | |
Here is a classic Olympia SG1 desktop featured in a visual of how I recondition these classic beauty's.

Here it goes, by the count:

Starting with a good bath in Mr. T's special cleaning formula, this beauty is cleaned down to the bone! As the carriage can be removed on the Olympia with very little trouble, I prefer to clean the machine with it off.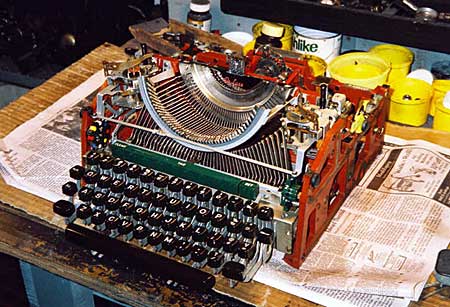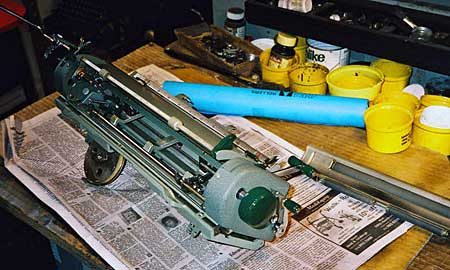 While the machine is drip drying, all the outer plates are cleaned and then clear lacquered to bring back the factory sheen.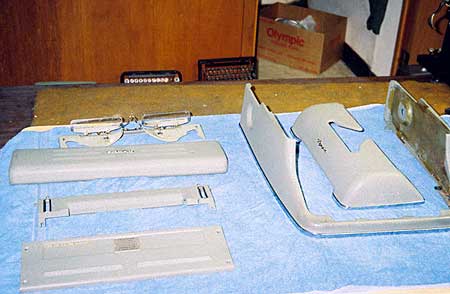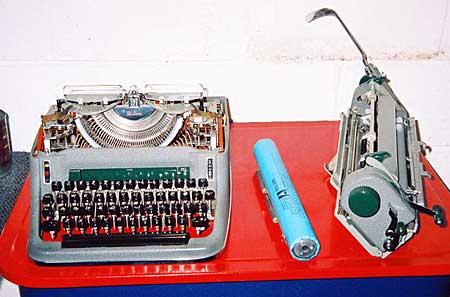 After replacing all the outer plates, it is time to install the new platen and replace the carriage.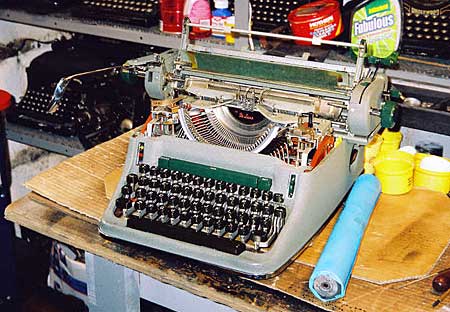 After the platen and feed rolls are replaced then it is time to check out the ribbon reverse with a new ribbon and the alignment of type.
As can be seen here, the style of the type is clear and sharp. This style is known as "Double Gothic."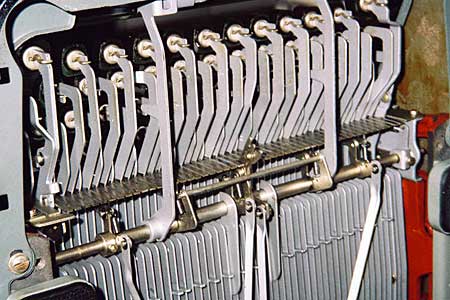 The SG1 has many special features. Some of them include: Each key top is cushioned with a spring loaded shock absorber. The shift keys, lock, backspace, etc. all have this feature.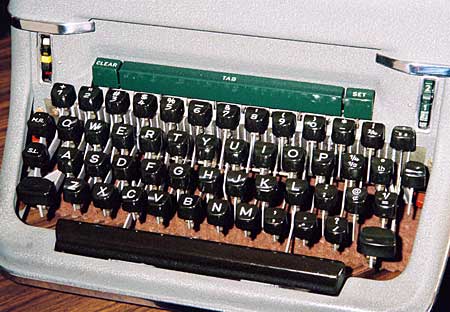 The picture of the keyboard clearly shows the many extra combinations that can be had with the SG1 like fractions, accents, etc.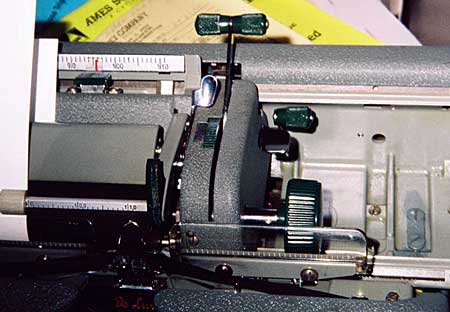 I could go on all day about the extra features found on this glorious old banger, but I would like to make special mention of the paper injector, total tab clear lever, paper gauge, and four place ribbon lift. This last feature is so the center of an all black ribbon can be used as well as the top and the bottom.
Bottom line - this machine is as new with its cover and book priced at the fabulous price of $295.00 plus shipping. You might want to take notice of the fact that the original sale price of this beauty fresh off the showroom floor was only $225.00 - - - in 1960 dollars! Today this would work out to be in the thousands!
This website and all material contained herein © Copyright 2001 by Dan Puls
Version 1.0 website (AOL) originally created and maintained by Louis Brandt Thanks Louis!
Version 2.0 website (Tripod) created and maintained by Dwayne Wilson