Underwood TM 5 - Limited Quantities
I now have a very limited supply of TM 5's. These are not new, but you almost can't tell they aren't new as they are in such nice condition. Now I want to stress these are not new as I don't want to mislead anyone, but they are in really, really nice condition. And after I spruce them up with the ol' magical MrTypewriter special liquid magic and tender loving care, I know they will please even the most finicky of avid collector of old bangers out there.
I also have one that has 6 point type that was made up for use by the legally blind. Very rare indeed.
---
This model was the last of the line for the true Underwood. Long an American standard, it had reached its creative peak with the TM 5.
After carefully unboxing these rare TM 5's, I have lovingly cleaned, lubricated and given them new ribbons so that they have that fresh, out of the box aroma!
This beautifully crafted machine is still a journalistic standard and representative of the fine typewriters from the Underwood firm.
You had better act quick on this one, I doubt I will ever come across another find like this one again.
VERY limited quantities.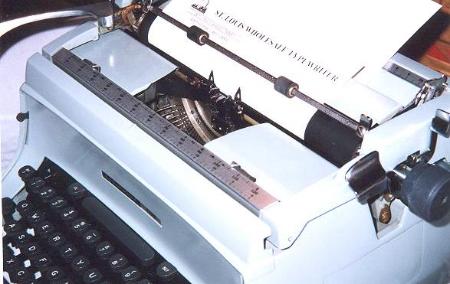 This website and all material contained herein © Copyright 2001 by Dan Puls
Version 1.0 website (AOL) originally created and maintained by Louis Brandt Thanks Louis!
Version 2.0 website (Tripod) created and maintained by Dwayne Wilson