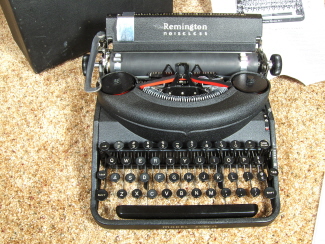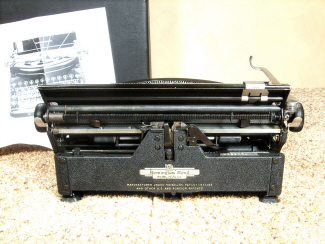 The Noiseless is not for everyone as it has a different action called the, "Pressure Printing Principle".
Printing by speed not force. A counter weight is connected with each type bar.
Most collectors like to keep one in there collection of typewriters more for show and tell however if you can make one fly who knows you may like it.
As they all were made by Remington some came with other names on them like Underwood.
$345.00 case and book included plus something for the brown shirts will set one on your door step.
Again as the #5s they came in high gloss black models for show and tell, if you have the extra dollars to spend.
Mr. Typewriter
Click here for more
Remington Typewriters...
This website and all material contained herein © Copyright 2001 by Dan Puls
Version 1.0 website (AOL) originally created and maintained by Louis Brandt Thanks Louis!
Version 2.0 website (Tripod) created and maintained by Dwayne WilsonThanks Dwayne!
Version 3.0 website (Tripod) created and maintained by Dennis Boedefeld