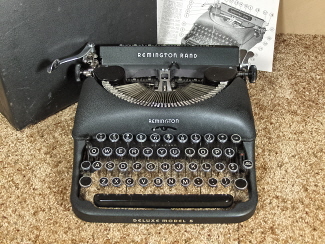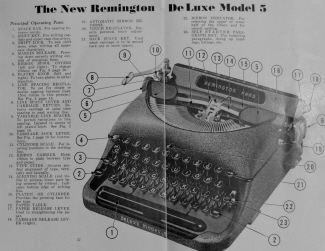 Here we have the Deluxe model of the Remington #5 with many features not found on the students models like the Streamliners,
Features like a full six place touch control, (the lever above the key board) ribbon spool covers, ect.
Later models came with hard rubber black key pads to save a bit of wear and tear on the fingers.
I offer these Deluxe models with case and book at $345.00 in mint condition.
Due to the demand from wantabe writers the prices of the shinny models, like the Streamliner students model #5 have went thru the roof,
however I do keep a supply of mint show and tell models in stock just in case a display machine is the main issue.
Mr. Typewriter
Click here for more
Remington Typewriters...
This website and all material contained herein © Copyright 2001 by Dan Puls
Version 1.0 website (AOL) originally created and maintained by Louis Brandt Thanks Louis!
Version 2.0 website (Tripod) created and maintained by Dwayne WilsonThanks Dwayne!
Version 3.0 website (Tripod) created and maintained by Dennis Boedefeld