| | |
| --- | --- |
| A Royal Ghost Story.... | |
Last Friday night was Halloween around these parts, and I was trying to finish up early so I could change in to my 'old typer' costume and do a bit of trick or treating with the other kids when something kind of spooky happened around the old home warehouse.

Surrounded by all my old bangers, I was taking a few photos of my latest finished work. Things were starting to get a bit blurry and fuzzy.

My first thought was that I had changed my brand of type cleaner to a cheaper brand trying to hold down costs and it wasn't agreeing with me.

It was then I heard a voice coming out of this mist that was forming around the room - "...been meaning to writer for sometime now..."

Perhaps old Doc was right when he told me last month that I had been talking to old typers so long my imagination was running away and that soon I will be convinced they are talking back to me!
A lot he knew....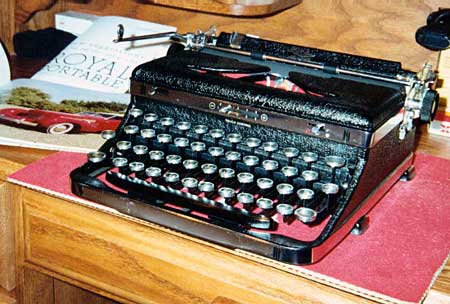 Anyway, the next day all was well and my prize was upstairs on my desk ready to do its thing just like the day it came from the factory.
The only problem I have is that every time I leave the room and return - the desk drawer is open....
This website and all material contained herein © Copyright 2001 by Dan Puls
Version 1.0 website (AOL) originally created and maintained by Louis Brandt Thanks Louis!
Version 2.0 website (Tripod) created and maintained by Dwayne Wilson