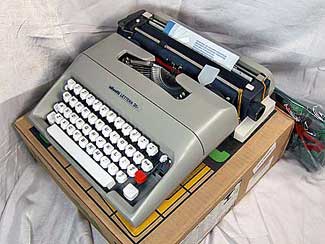 It's no longer an impossible dream to own a brand new classic typer!
Just arrived, a small supply of a few dozen new in the box all metal Olivetti Lettera 35s.
This was the last of the Olivetti metal manual typewriters.
This solid machine is not to be confused with the Mickey Mouse plastic children's typers appearing on eBay from time to time with many different names, (Olivetti name included.)
So act quickly before this remarkable find fades away into the sunset alongside its own Sanco Panza. Searching for their own impossible dream.
-Mr. T.