| | |
| --- | --- |
| Corona Four | |

Now I understand and agree that this old banger is a bit outrageous in gold and high gloss black with a nice case and a copy of the book. So I will be offering a 'plain jane' version as well for the more introverted typist who feels a less attention getting version would be in order.

Now you must remember that very few Corona Fours have survived in mint condition in the two-tone gold and black versions, not to mention that it still has it's ribbon cup covers.
This is why I have worked my magic in bringing this grand old banger back, including replacing the platen along with the ribbon with the proper spools.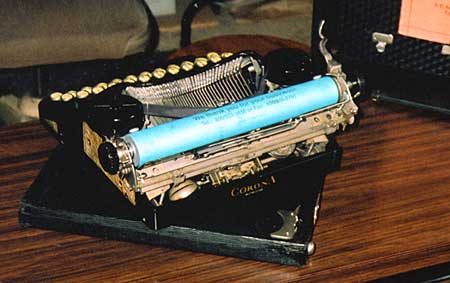 This website and all material contained herein © Copyright 2001 by Dan Puls
Version 3.0 website (Tripod) created and maintained by Kraig Auth