| | |
| --- | --- |
| 1929 Royal Model 10 SOLD | |
Looks like another 1929 Royal Model 10 is back in town looking for a new home.
None smoker please - booze O.K.
Let's check this old banger out by the count!

Decals look very nice, front plate paper table and even on the back!

Paint looks like a Regal re-built from the early thirtys. Paint is good , no digs or chips. (Sorry for you folks out there that are looking to find one with more bare spots!)

Nickel is bright with little to no pitting, if any. The feet are in good shape, and the keyboard is white (original) and is very nice with good nickel rings and glass.

Now through no fault of the typewriter, I had to put a new platen, feed rolls and bail rolls on it. This is a must as the life of the rubber is only about 20 years. Now I understand that many people buy old typers for 'show and tell' or 'doorstop duty', but when you buy a Fine Old Typer from MrT, you get a machine ready to use for what it was made for - typing!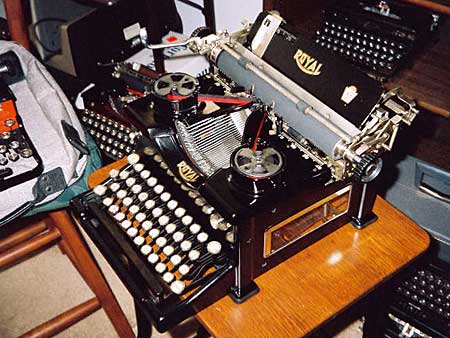 A new red and black ribbon on new metal spools really set this old timer off. I always hate to see those plastic mickey mouse spools on a grand old writer like this.
A few hours in the cleaning tub and a few more spit and polish sessions and we are talking one foxy old banger here ready to fly with the rest of them!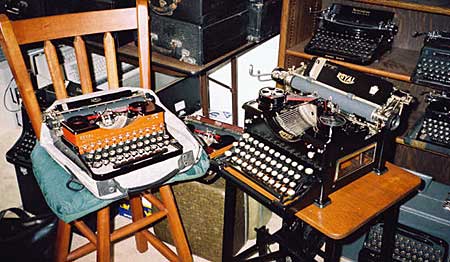 Wonder what line this old timer is saying to make that sweetheart 1929 Royal portable blush that much??
This website and all material contained herein © Copyright 2001 by Dan Puls
.
Version 3.0 website (Tripod) created and maintained by Kraig Auth